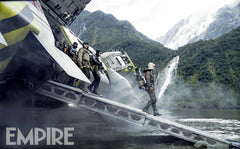 In early January 2016 when Sydney was lost in deep summer, Cheryl and I embarked on our first expedition into science fiction headwear for Ridley Scott's Alien Covenant.
 Collaborating with costume designer, Janty Yeats and her design team, we were commissioned to create headwear for one segment of the movie. Our primary reference material being the work of French illustrator, Moebius.
Janty's vision for the Covenant players was for stylish but practical work wear in the French Foreign Legion style, garments that could be worn while scoping the pristine wilderness of a newly discovered planet.
It was a natural choice to select moleskin and oilcloth as our base fibres, durable staples of Australian outback apparel.
With Moebius as our guide, we created a range of fitted explorer caps. Art finished with badges and metallic elements that themed with the explorer wear.
Pictured are Katherine Waterson as Daniels and Michael Fassbender as Walter
It was a privelidge to collaborate with the British crew on this big feature film and be part of the Ridley Scott juggernaut.
 Delighted to see our headwear in action in the wilderness of New Zealand's spectacular Milford Sound.
 Sadly many of the players in this plot come to a sticky end. However most performers like to go down well dressed.
---